A college visit can be stressful. Visitors need to take in a lot of new information and locations can easily blur together. However, if you are prepared for these trips they can be very successful. Our College Planning Team is here to help facilitate your visits! Summer is usually the easiest time to squeeze in college tours, but prospective students could lose out on experiencing the college in full swing. Weather can also have a huge impact on your student's enjoyment. If your child hates the cold, definitely make them visit any Northern prospects during the winter. Make sure your family carefully considers the time and season in which you visit a campus. With these helpful tips on mind, view our list of questions below!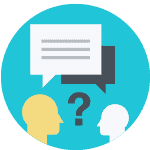 How We Can Help:
Our partners at SAGE Tuition Rewards pulled together a list of 8 must-ask questions for campus visits. Parents and students should visit college campuses to understand the environment and culture–check out our blog on College Culture for more tips. Students are more likely to be dissatisfied with their chosen college if they do not visit it first. Our team feels this is a crucial step in planning for your higher education. So, take a few minutes and read over the questions below. They will act as a sturdy guide to discovering more about a school. Plus, they will make you look like a viable candidate to admissions counselors. Plan your college visits with confidence and ease!
If you would like to discover more about our partners at SAGE, please visit their website.
Click on the below link to view the questions in PDF Form: